Rebalance is for patients who suffer from breakouts or acne; a common condition that occurs in adults and teenagers. Whether you are 14 or 45 years of age, your body experiences hormonal changes, which causes an overproduction of skin oil. The oil collects within the pore and subsequently the pore gets blocked. When this happens, blackheads and whiteheads occur. There are bacteria present on the skin and within the pore which uses the oil as food and overgrows, resulting in pimples and cysts.
Treatment is aimed at reducing the excess oil, unplugging the pores and killing the bacteria. No single treatment can do all of these things, so to get you clear, we use a powerful combination of bi-monthly treatments and a medical grade product regimen to transition your skin from being out of balance to clear and Rebalanced!*
Our Process
The first step is a skin evaluation and consultation: a pertinent time for us to learn about your skin experience (what you have tried, what you are currently using, diet, lifestyle, etc.). From there, we will create a customized product line and go over how to use it each day. You will then receive the Rebalance Treatment, consisting of a Microdermabrasion, Red and Blue Light Therapy and a Gentle Glycolic Peel.
Microdermabrasion
Exfoliation of skin cells using a diamond-surfaced suction to gently remove the outermost layer of skin and excess oil which opens the pores and preps them for the Red and Blue Light Therapy.
Red and Blue Light Therapy
Also known as photodynamic therapy, or PDT, there is nothing better on the market for treating acne. The exposure of blue light on the surface of the skin kills bacteria while the red light reduces redness and inflammation and heals the skin. This light therapy is painless; works on all skin types and colors and does not harm or burn the skin.
Gentle Glycolic Peel
Gentle but powerful application of alpha-hydroxy acid used to increase cell turnover and dissolve the blackheads while minimizing breakouts.
Rebalance treatments are recommended every two weeks for an average of ten to twelve weeks and then every two to three months to maintain your Rebalanced look.
Click to Enlarge

*Individual Results May Vary

*Individual Results May Vary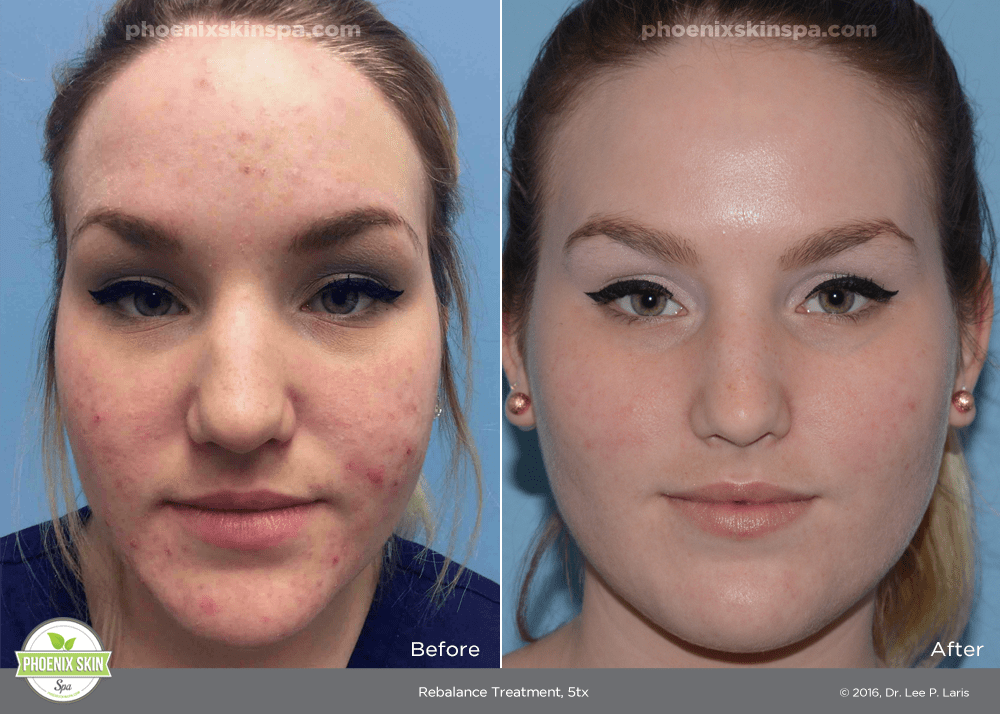 *Individual Results May Vary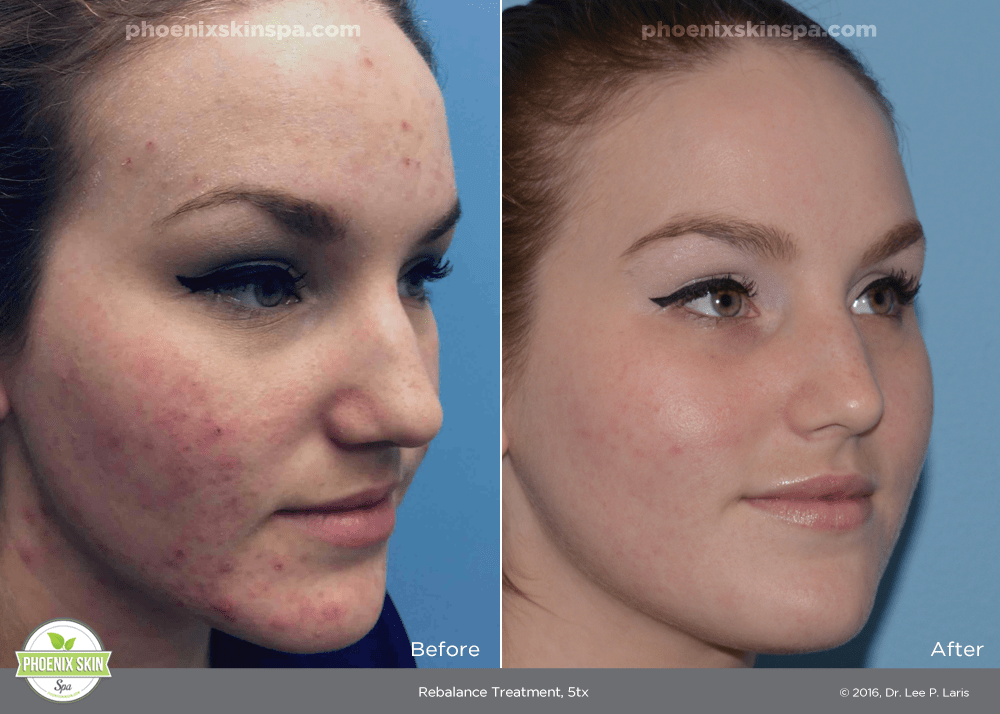 *Individual Results May Vary
Customized Skin Care Kit
Simply put, the Phoenix Skin Spa professional products are a recommended skin care regimen that will maximize your results so you may reach your goals. The products at Phoenix Skin Spa are medical-grade, meaning they have higher quality and more powerful ingredients than anything over the counter, which will lead to a better outcome for you and your skin. Your customized skin care kit will be carefully selected for you and each product should last three to six months. Over the course of your Rebalance schedule, the condition of your skin will improve and different products may be selected as they run out.*
Ready To Get Started?
Schedule your consultation today by calling us at 602.604.9111 or using our online scheduler.
*Individual Results May Vary