What is Micro-Needling?
During the Micro-Needling procedure, our Licensed Aesthetician uses a micropen with twelve very fine needles that create mini injuries to the surface of the skin. When the skin heals, it naturally produces collagen and elastin, which are essential to smoothing fine lines, acne scars, traumatic scars, and stretch marks.
When combining Micro-Needling with Platelet Rich Plasma (PRP), tiny channels are created in the skin. These channels, called micro-channels, help the skin absorb the PRP into the deeper layers of skin for maximum rejuvenation to smooth fine lines, and soften wrinkles, scars and stretch marks.*
What is PRP?
PRP stands for Platelet Rich Plasma. In the medical industry, PRP is commonly used to speed up the healing for osteoarthritis of the knee, shoulder, hip, and spine. When used for skin rejuvenation, PRP expedites the skin's repair process and stimulates new collagen and elastin growth.*
Where Does The PRP Come From?
A small sample of blood is taken from your body. The sample is then placed in a centrifuge to spin and separate the PRP from the other components, and is applied directly to the skin.
Micro-Needling Before and After
Click to Enlarge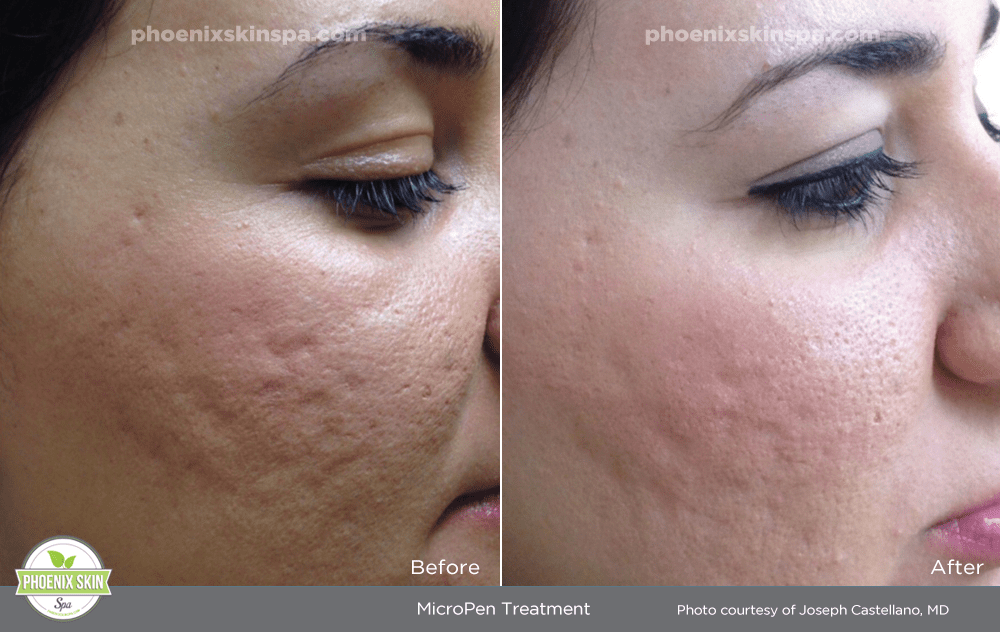 *Individual Results May Vary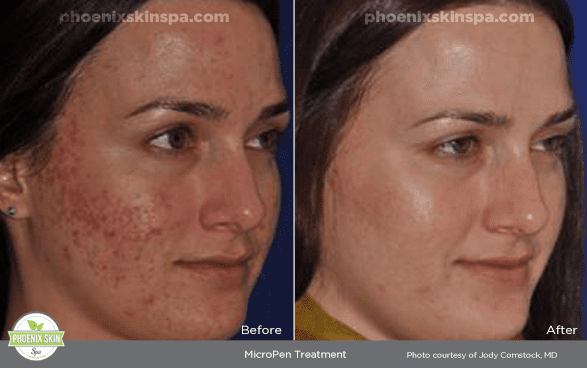 *Individual Results May Vary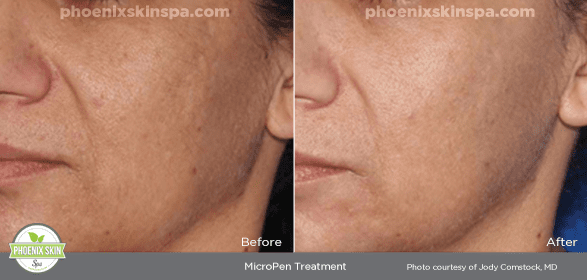 *Individual Results May Vary
What Does Micro-Needling Feel Like?
Patients who have received the treatment say that the Micro-Needling feels like sandpaper on the skin. Prior to the procedure, our Aesthetician will apply topical numbing cream to minimize discomfort.
What To Expect After the Procedure?
Similar to mild sunburn, your skin may appear red or flushed. You may also experience mild swelling, tightness and peeling that typically clear within 72 hours.
When Will I See Results?
Patients often see some immediate smoothing. However, the average patient typically experiences visible improvement within two to four weeks and can continue for up to six months.*
How Many Treatments Will I Need?
For best results, three treatments spaced four to six weeks apart are recommended. More serious conditions such as deep wrinkles and acne scars may require more treatments.
To book your appointment or consultation, contact us today at (602) 604-9111.
A $50 non-refundable fee is required to schedule a consultation and can be applied towards treatment. Less than 24-hour notice for cancellation and/or no show will result in a forfeiture of the $50.
All photos contained in this web page are protected by Phoenix Skin Spa copyright and may not be copied, linked, or redistributed in any form
Read about our Medical Director Dr. Lee Laris
*Individual Results May Vary